Simplex - Duplex - Multi Basket Strainers, Y Strainers, Suction Strainers, Inline Strainers, Pipeline Strainers, Pneumatic/Hydraulic Valves, Hydraulic Accessories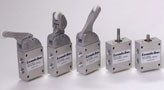 Omni Controls……..A Complete Line of Pipeline Strainers, Hydraulic and Pneumatic Valves, and Accessories – Quality, Service, and Innovation – for You, Since 1980
Omni Controls supports a line of strainers of unbeatable quality including over 11,000 model numbers of all sizes and in a variety of materials of construction from cast iron and carbon steel to stainless steel and PVC. Off-the-shelf simplex, duplex, pipe, and Y-strainers are available for immediate delivery. We have a pipe line strainer for just about any straining application imaginable with a broad and complete range of every type of strainer from 3/8" to 60" pipeline sizes. For a unique configuration or size, unusually high pressure, or a special alloy. We can economically fabricate a strainer to your exact needs.
We're also steeped in hydraulic, pneumatic, and fluid power knowledge to recommend and provide the right hydraulic and pneumatic valves or systems for your application. Omni can help you with any application that deals with the generation, control, and transmission of pressurized fluids.
No matter where in the world you or your plant are located, an Omni representative is available to assist you. Welcome to our site.
Use our online pressure drop calculator to calculate the pressure loss for filters and strainers in a pipeline. Use our inches to microns, microns to inches conversion calculators to determine equivalent inch and micron opening sizes for your filter media.



Areas of Our Applications Experience and Product Use






Chemicals – Water Handling – Pharmaceuticals and Cosmetics – Petroleum –
Pulp and Paper – Process Equipment – Paint, Ink, and Latex – Marine Industry –
Tank Cars and Trucks – Commercial Buildings, Hospitals, and Schools –
Food Industry – Electronics – Power Generation – Industrial Manufacturing
Pipeline Strainers from Eaton Filtration



Omni represents Eaton Filtration whose strainers have, for 75 years, protected pumps, filters, nozzles, flowmeters, valves, heat exchangers, condensers, oil burners, boilers, and other process system components from damaging debris. Eaton strainers are synonymous with quality engineered and manufactured strainers. Eaton Corporation acquired the Hayward Filtration business from Hayward Industries, Inc.
Samples of Strainers Product Line

The Industry Standard Simplex Strainer
Sizes 3/8" to 8"
Iron, Bronze, Carbon Steel or Stainless
Steel, Threaded or Flanged
Features:
Quick open cover –no tools needed
Heavy wall construction
Large capacity baskets
Machined basket seat
Threaded drain
Perforated stainless basket
Options
Basket perforation from 1/32" to ½"
Basket mesh from 20 to 400
Monel  baskets
Viton, PTFE-encapsulated, or EPDM seals
Vent Valves
1/4" NPT taps
Magnetic basket insert
Pressure differential gauge and switch
Hayward's Model  72 Simplex Strainer has been the industry standard simplex basket Strainer for over 75 years. It's perfect for industrial and commercial applications where the line can be temporarily shut down for strainer basket cleaning or change-out.
A few of the reasons for its popularity are, first, the unusually large basket capacity. The free straining area is at least 6 times the cross sectional pipe area (even more in many sizes). Next, no tools are needed to open the cover. The quick opening, swinging yoke can be disassembled and the basket removed in second, on sizes 4" and larger, a special cover clamp is provided to distribute the seating pressure and to insure positive seating of the cover.
Another feature is a threaded drain on every size strainer (fitted with a plug), This can be used as a backwash
Connection, if desired, Sizes 2" and larger are provided with legs for bolting to the floor for rock solid installation.
Wall thickness are exceptionally heavy, we have not stinted on weight to save material costs. The basket seats are precision machined to give a tight seal and prevent any material from by-passing the basket.  The Hayward Model 72 Simplex Basket Strainer is a top quality, heavy duty unit designed to stand up to the most demanding of applications.  There is simply no better simplex basket strainer made.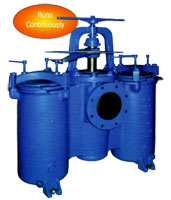 Excellent for Applications Where Pipelines Cannot be Shut Down for Basket Changeout
A duplex or double  basket strainer can operate continuously and never has to be shut down for cleaning. This type of basket strainer has two separate strainer basket chambers, not just one like a simplex strainer.  These chambers are put into service independently, When one basket chamber becomes full, the flow is switched to the other one.  The strainer basket is then removed from the out-of-service chamber, cleaned and replaced, ready for use again.
Hayward duplex strainers have been installed all over the world to remove unwanted material from every conceivable kind of industrial fluid.
Examples of where duplex strainers are used; in continuously running lubrication systems where the flow of all cannot be stopped, cooling lines in places like power plants where the cooling water must always run, industrial heating and power systems where the fuel lines must never be stopped,  many chemical operations must run continuously and a duplex strainer in the line provides assurance that auxiliary equipment will not plug and stop functioning.
The most important design component of a duplex strainer is the method by which flow is diverted between the two strainers basket chambers. Hayward has developed several cost efficient and reliable designs depending on the physical size of the strainer.
Smaller sizes, up to 4", utilize a patented diverter cartridge to switch the flow from one chamber to another.  This cartridge completely shuts off the flow to the out-of-service chamber making it easy to service the basket.
Hayward duplex strainers in 5", 6", and 8" sizes use a tapered plug to switch the flow.  This simple, time-tested design has few parts and requires little maintenance.
For larger size duplex strainers,  Hayward has developed two different design. Duplex strainers in sizes 10" to 18" have a butterfly valve flow diverter assembly which results in a very compact unit for strainers of this size.  Strainers up to 36" in size have a special hand-wheel-operated sliding gate mechanism and a multi-basket design.

Compact Design
Sizes 8" to 36"
Iron or Carbon Steel, Flanged
Features:
Four Baskets per Strainer
Bolted cover
Straight through flow design
Compact
Threaded drain
Standard perforated stainless steel basket
Options:
Basket  perforations from 1/32" to ½"
Basket mesh from 20 to 400
Monel baskets
Vent Valves
Drain Valves
¼" NPT taps
Basket flange gaskets
Cover lift davit
Bronze or stainless steel construction
Magnetic basket inserts
Pressure differential gauges and switches
The Model 510 Simplex Strainer is designed for larger piping systems having flow rates up to 40,000 gpm. Unlike other large size simplex strainers, the Model 510 has a multi-basket design. Four strainer baskets per unit strain the process media and give the strainer an extremely high dirt removal capability – an important consideration in larger size strainers that, because of their size and design, take longer for basket cleaning or change out. The longer the strainer stays in service between cleaning, the less expensive its operating costs.
To reduce the pressure loss to an absolute minimum the Model 510 has a straight through flow configuration. This is made possible by a unique basket design that incorporates a slanted top to permit straight through flow.
The use of four baskets, rather than one or two, helps to keep operating costs low because the overall size of each basket can be smaller. This means that cleaning is a one person job, two or more operators, or lifting tackle, are not needed to lift the baskets out of the strainer housing. To make this job even easier and quicker the Model 510 can be ordered with a special cover lifting davit with which the operator can raise the strainer cover and swing it out of the way for access to the strainer baskets. The four basket design of the Model 510 provides an additional benefit as well: the centerline to bottom and centerline to top dimension of the strainer are very short -creating a low-profile design that is ideally suited for installation in cramped quarters.
For large size piping systems with high flow rates, Model 510 simplex strainers offer significant advantages over ordinary large size strainers…advantages that will improve performance and reduce operating costs over the life of the strainer.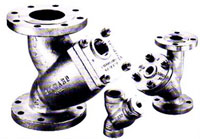 Rugged Design
Carbon Steel and Stainless Steel Y Strainers in Sizes for ¼" to 10" Pipelines
Cast Iron Y Strainers in Sizes for ¼" to 20" Pipelines
Bronze Y-Strainers in Sizes from ¼" to 6"
Features:
Heavy Duty Construction
Compact Design
Bolted or Threaded Covers
Standard Stainless Steel Screens
Synthetic Fiber Gaskets
Options:
1/32″to 1/2 "Perforated Stainless Steel Screens
40, 60, 80,100, 200, 325, and 400 Mesh Stainless Steel Screens
Monel Screens
Chrome-Moly Construction
Ring Type Joint Connections
Butt Weld Connections
900#, 1500#, and 2500# Ratings Available
Hayward Model 85 Y Strainers are heavy duty ones – engineered to stand up to the most aggressive of industrial and commercial applications….year after year.
It may seem strange to discuss quality as a special feature of a basically simple Y strainer, however, it Is appropriate when you consider the critical operational parameters often associated With Y strainers used in steam and gas applications, extremely high temperatures and high pressures. A Y strainer is a pressure vessel, its wall thickness can be analyzed and evaluated by different applicable standards. Hayward does not, and never will, compromise or stint on wall thickness. Every rugged Hayward Model 85 Y strainer is designed to stand up the most demanding real world applications.
There is a tendency to trivialize quality, particularly when price becomes a dominant consideration, What this design consideration amounts to in non-critical, light duty applications is an extra element of safety, as well as longer, more dependable service. It should not come as a surprise to learn that those Y strainers, whose bodies are trimmed to a bare minimum for cost reasons, are equipped with screens that lack structural integrity and are poorly seated and sealed. Hayward heavy duty Model 85 Y strainers are furnished with high quality stainless steel screens that are carefully fabricated to fit the strainer body perfectly. This, coupled with the precision machined screen seat on the body of the strainer, protects against any bypass.
Straight Flow Basket Strainers

Quick Opening Cover
Iron or Bronze
Sizes 10" to 18", Flanged
Features:
Quick open cover
Straight through flow design
Low pressure loss
Convoluted basket design
Hand removable basket
Threaded Drain
Buna-N o-rlng seal
Standard perforated stainless steel basket
Options:
Basket perforations from 1/32″ to 1/2″
Basket mesh of 20 or 40
Monel baskets
Vent valves
Drain valves
1/4″ NPT taps
Pressure differential gauge and switches
Large size pipelines with high flow rates required a unique type of basket strainer. The typical design for smaller size pipelines just won't perform efficiently…the pressure loss would be too high and the baskets too large to remove and clean easily.
Hayward has solved these problems with its Straight Through Flow design simplex basket strainers. With this straight through flow, pressure loss is greatly reduced and, at the same time, results in a compact strainer that can fit in tight spaces.
The basket that this strainer uses is special as well. The perforated or mesh straining screen in the basket is convoluted (pleated). This increases the amount of straining area available while at the same time reducing the overall basket size and weight. This makes it easy to remove the basket from the strainer housing. No lifting tackle is required. And the quick opening cover provides fast and easy access to the basket, What all this means is that the basket of the Model 72 is quick and easy to service…saving considerable time and money over the years.
When selecting a pipeline strainer for a large size piping system with high flow rates, be sure to consider all the factors, not just initial pressure loss. The amount of straining area in the basket is critical to reducing the amount of time between cleanings or changeout. Also remember that if cleaning the basket is difficult, or requires two people to perform, operating costs will continue to be too high. The design of the Hayward Model 72 Straight Through Simplex Basket Strainer takes all these operating parameters into consideration and is the best simplex strainer for higher flow applications in large pipelines.
All-Plastic Basket Strainers

Best for Corrosive Service
Size ½" to 8", PVC, Corzan CPVC or Eastar, Socket, Threaded or Flanged
Features:
External Cover Threads
Low Pressure Drop
Wide Choice Of Baskets
In-Line or Loop Piping Design
True Union Connections
Hand Removable Cover
Integral, Flat Mounting Base
Options:
Stainless Steel Mesh Baskets
EPDM Seals
Clear, See Through Eastar Construction
The All-Plastic Simplex Strainers ares the answer for straining applications in corrosive or ultra pure services. There is no metal used in the strainer's construction to leach out and contaminate sensitive fluids and because it's plastic, this simplex strainer will never rust or corrode. Another benefit, often overlooked, is that because it is plastic, the strainer will never need painting or coating, it will stand up and function for years in applications where a metal strainer would have to be coated or painted just to survive. Perforated plastic baskets, made of the same material as the strainer housing, are standard. For applications that require fine mesh straining, baskets can be fabricated from stainless steel, extending the application flexibility of this all-plastic basket strainer.
Basket changing or cleanout couldn't be easier. The cover spins off by hand, no tools are needed and because of the light weight of the strainer. Installation is simplified.
Plastic simplex strainers can be used in many applications, even some that you may have thought would require metal strainers. Thinking of replacing a metal strainer with a plastic one to take advantage of lower costs and better corrosion resistance? Call or email Omni for our specific recommendations for your systems.
These recommendations may include things such as proper alignment of the strainer in the piping system to eliminate stress, correct support for the strainer and installation of spool pieces of plastic pipe or expansion joints. Hayward All-Plastic Simplex Basket Strainers are the answer to highly corrosive or ultra pure applications. They are available in PVC and CPVC in sizes up to 8″ – with socket, threaded or flanged connections. They are rated at 150 psi at 70° F in most applications.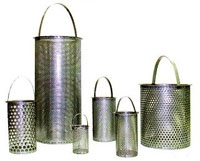 Cylindrical baskets for simplex and duplex strainers up to 8" size.
Pleated strainer baskets for Model 72 simplex and Model 50 duplex strainers sizes 10" to 18".
Slant top baskets for Model 510 simplex and Model 570 duplex strainers sizes 8" to 36".

Options:
Alloy construction, RTJ-style connections
Features:
ANSI Classes 150, 300, and 600
Perforations: 1/32" to ½" diameter
Mesh Liners: 20, 40, 60, 80, and 100 (best with basket type strainers)
2" to 24" Flanged, stainless steel or monel construction
Designed For Use In:
New pipeline startup service
Systems where solid contaminants are not prevalent, but where protection of piping system components is desirable
Hydraulic Valves and Pneumatic Valves from Lexair

Omni represents Lexair, a prominent manufacturer of fluid power products, high pressure compressors, stainless steel hydraulic & pneumatic valves, & machine tool accessories. Manufacturers of Airmatic & Beckett-Harcum valves including power & control air & hydraulic valves, solenoid operated & pinch valves.
Poppet Valves
Poppet-type valves provide high flow, positive shut-off operation for a variety of industrial and process control needs. Constructed of non-corrosive materials, they can be used with a wide range of liquids and gases where quick-acting control is required. Working pressures to 500 PSI are standard, higher pressures are available upon request.
Direct Pilot Operated Poppet Valves

2-Way, Normally Open,
for Air, Oil, Water and Vacuum

2-Way, Normally Closed,
for Air, Oil, Water and Vacuum

3-Way, Normally Closed,
for Air, Oil and Water

Stainless Steel
2-Way, Normally Closed,
for Air, Oil, Water and Vacuum

Two-Way, Normally Closed,
for Air, Gas and Vacuum

Two-Way, Normally Closed,
for Oil and Water

2-Way, Normally Closed,
for Air, Oil, Water and Vacuum

Normally Closed,
for Air, Oil and Water
DIN Solenoid/Pilot Operated

2-Way, Normally Closed,
for Air, Oil, Water and Vacuum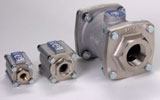 Mini 1 Pneumatic Valves



Mini 1 pneumatic valves are compact, high-flow directional control valves featuring a wide array of manual, mechanical, air pilot and solenoid operators. The line features aluminum bodies with stainless steel spools and unique Buna-N seals. Available models include 3-way (3 port) and 4-way (5 port) bodies. Working pressures to 150 PSI are standard.
Manually Operated Pneumatic Valves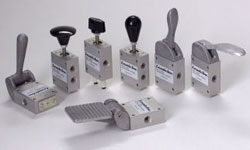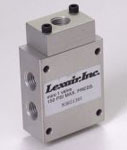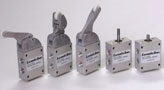 Hi-Cyclic® & Magna-Cycle Directional Control Valves
(two, three, and four way valves for pneumatic or hydraulic service)
Shuttle Valves
Solenoid Valves
Solenoid Operators
Railcar Valves
Subplates
Manifolds
Repair Parts