Flow Meters, Flow Monitors, Totalizers, Transmitters, Receivers for Air, Gas, Water, Oil, Industrial Fluids, Steam Flows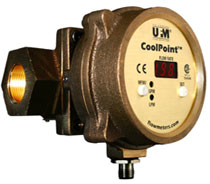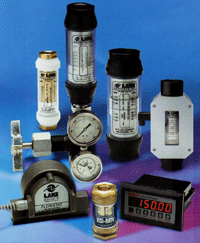 Omni Controls…..Helping Industry Monitor Flow Since 1980
Proven dependable and cost-effective solutions for your air, gas, and liquid flow rate applications.  Examples of Omni Controls' flow engineering expertise are found in applications around the world providing accurate and repeatable flow measurement for many volumes, rate speeds and flow types.  Hundreds of companies trust and rely on our products and knowledge.  Allow us to assist you with your needs.


Monitor ∫ Measure ∫ Control ∫ Signal ∫ Detect ∫ Determine
Typical Flow Applications for our Engineered Solutions:
Air consumption
compressed air
 Condensate (water)
Acid – coolant – lubricant – chemical – gas – solvent – paint – water monitoring
Cooling water
Deep hole drilling
Flow rate detection
Fluid control
Foreign matter indicating
Grinding
Ground/pond water
Machining
Milling
Monitoring and filtering
Movement measurement
Multiple spindles
Nitrogen blanketing and purging
Pool water
Potable water
 Processing coolants or liquids
Reaming
Scrubber water
Signaling fluid stoppage
Speed determination
Weld water
air flow alarms
air flow meters
air flow transmitters
air flowmeters
alarm receivers
basic inline flow monitors
batch control indicators
bi-directional reverse flowmeters
case drain monitors
coolant flow meters
differential pressure flow transmitters
differential pressure flowmeters
differential transmitters
digital flow meters
digital totalizers
electromagnetic flowmeters
electronic flow meters
flow alarms
flow analyzers
flow control meters
flow controllers
flow detectors
flow indicating transmitters
flow instrument panels
flow meter alarms
flow meter calibration
flow meter manufacturers
flow meter totalizers
flow meter transmitters
flow meters
flow monitoring
flow monitors
flow rate gauges
flow rate meters
flow rate switches
flow rate totalizers
flow security systems
flow sensor alarms
flow sensors
flow switches
flow totalizers
flow transmitters
flow velocity meters
flowmeter totalizers
flowmeter transmitters
flowmeters
fluid flow meters
fuel flow transmitters
fuel flowmeters
fuel totalizers
fuel transmitters
gas alarms
gas flow meters
gas flow transmitters
gas meters
gas totalizers
gas transmitters
gear flow meters
high temperature flow monitors
hydraulic system analyzers
in line flow meters
industrial flow meters
inline flow meters
insertion flow meters
LCD transmitters
liquid flow meters
low flow alarms
low flow meters
lubrication flowmeters
magnetic flow meters
magnetic flow transmitters
mass flow meters
mass flow transmitters
mechanical flow meters
monitoring sensors
natural gas flow meters
oil flow meters
phosphate ester monitors
pipe flow meters
pneumatic flow rate monitors
remote rate indicators
steam flow meters
steam flow transmitters
test analyzers
thermal flow meters
thermal flow meters
thermal mass flowmeters
totalizer meters
turbine flow meters
turbine flow monitors
ultrasonic flow meters
ultrasonic flow transmitters
ultrasonic flowmeters
variable area flow meters
visual inspections flow monitors
volume flow meters
volumetric flow meters
vortex flowmeters
water flow alarm
water flow alarm switchs
water flow alarms
water flow meters
water flow totalizers
water flow transmitters
water meter totalizer
water meters
water totalizers
Our Flow Metering and Monitoring Products
Universal Flow Monitors

Universal Flow Monitors – high quality mass flowmeters, water flowmeters, lubrication flow meters and air flow meters for both specialized and general applications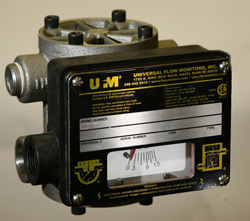 Types of Flow Meters – Universal Flow Monitors:
Vane or Piston Variable Area Flow Meters
Options – By Control Box Readouts, By Flange Specifications
Our variable-area meters are used in many diverse industries, monitoring flow of water coolants, lubricants, acids, chemicals, solvents, corrosive liquids, delonizde water, sea water, paint, weld-shielding gas, gases, and air.
They flow by the variable orifice principle, as do traditional  rotameters. But rather than pushing a loose float up a tube (against gravity), the flowing liquid pushes against a spring-loaded swinging vane or piston.
Direct linkage between the sensor and the pointer, makes low-cost switch actuation possible, without magnets.
No fragile glass or plastic tubes.
They work with dirty or opaque fluids with viscosities up to 650 centipoise (3,000 SSU).
They mount in line, in any position. Flow rates <800GPM (3000 LPM), do not require straight pipe runs.
They can handle shocks or overflow up to 1-1/2 times rated capacities.
They take higher pressures, in some models up to 2000 PSI(137.93 BAR).
Operating temperatures from 30° F (-1° C) to 400° F (205° C).
These flow monitors are available in two designs and five sizes. The vane design is made in four housing sizes; the S, the M, the L, and the X, each progressively larger. The piston design is made for measurement of full-scale flow rates in liquids as low as 5 GPH (20 LPH) and as high as 1500 GPM (5500 LPM).
Insite™ Transparent Plastic Flowmeters
These simple, direct reading flow indicators are made from transparent plastic with metal or plastic end fittings. They are used to monitor the flow rate of water or compressed air. The end fitting can be made from brass, stainless steel, aluminum, or PVC. The plastic tubes are made from PVC for water flows 3 to 50 GPM (20 TO 200 LPM), or Polysulphone™ for flows from 5 to 50 GPM (20 TO 200 LPM or 1,400 to 14,000 SPLM) maximum.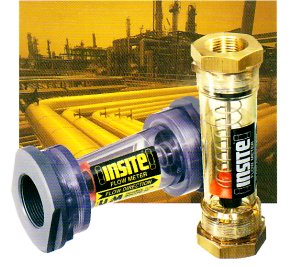 The transparent tubes allow the user to read the flow rate from the printed scale where it is intersected by the edge of the float in the fluid. The ses- through construction allows direct viewing of the fluid conditions as well as the flow rate. Switches are available. These monitors install easily in any position.
Variable Area Vane-Style Flowmeter with Filter Flow Switch
FO Series monitors combines a flow rate indicator and switch with a filter. They protect valuable machine tool heads by monitoring the flow of lubrication and filtering any foreign particles that may elude the primary filtration
Sensor Manifolds – Multiple Outlet Flow Manifolds with Sensors
Sensor manifolds distribute flow (through one common inlet and up to 4 outlets of choice) and monitor the flow rate to each branch. Temperature and/or pressure can be monitored as well. The readings are then transmitted to a remote panel (or our OCTOPUS) for control or monitoring functions.
Octopus™ Multi-Channel Receivers
The OCTOPUS a-channel multifunction receiver/controller is for use in systems where accurate flow totalizing and rate indication are required. It accepts and displays such inputs as flow rate, pressure and temperature, rmp, etc. Features include 8 alarms (high, low, or comparative) activating 5-amp, dry-contact, Form C output relays. It provides power to all transmitters.
FlowStream™ Mass Flow Meters for Gas
The FlowStream Mass Flow Meter is ideal for use with gases. No moving parts in an improved laminar flow elements design yield precise, accurate, reliable flow measurement.
The FlowStream measures flows from 1 to 1200 SCFH (1 to 566 SLPM) through a standard ¼", 3/8", or ½" inlet/outlet connection, depending on flow range required. Options include digital display, transmitted output of 4-20mA, 0-5 VDC, switching (5 ms response and Nema 4 enclosures). It can be pre-calibrated at the factory for use with these standard gases: air, nitrogen, helium, argon, carbon dioxide, and various other gas mixes.
Mensah™ Readouts and Controls
These devices are available in two series: an integrating totalizer and/or ratemeter, and a batch controller, both suitable for panel-mounting. They accept analog signal inputs, and can be field programmed to accept 4-20mA, 0-5V, 0-10V, 1-5V, or 0-20mA signals. These units have an optional 4-20mA output to control strip recorders or other peripherals. Other options include two adjustable Form C contacts, Square Law input and either a RS422 or RS232 serial communication link for data exchange with a host computer.
Universal Flow Monitors Instrument Panels
Universal's standards of flow instrument panels offer many advantages over custom-building your own. There is no design-time required and they are ready to use. They are fully-assembled and pre-calibrated. They do require a 115V-60Hz power source, and a standard 4-20mA signal from a Universal transmitter (or other transmitter).
Example of our Universal Flow Monitors Line –  the Modular Manifold MSN Series
High Pressure Coolant Flow Monitoring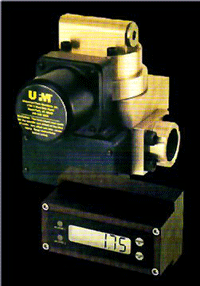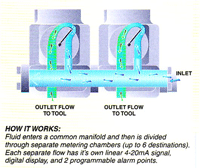 Typical Applications:
Deep Hole Drilling
CNC Machining, General Machining
Grinding
Multiple Spindles
Milling
Reaming
Features:
Fast response reduce tool breakage
Eliminates downtime
Rugged Compact Manifold Design (combine up to 6 flow sensors)
Easy to install, operate, and maintain
Two Programmable Set Points (open collectors) per unit
LED Set Point Alarm Indicators
Integral or Remote Digital LCD Rate Indicators
Nema  4 (liquid tight)
Process Connection: SAE, BSPP, ISO 6149
Standard Operating Pressure to 1000 PSIG (69 BAR). Optional 2000 PSIG (138 BAR)
Easy, quick field wiring-standard with 5-pin micro style connectors and cable
Output of 4-20mA
Subplate mounting design allows fast meter change-out due to tool changes
Omni Controls offers Universal Flow Monitors' reliable flow metering system for machining coolant that is backed by extensive field experience. The shock absorbing design reliably with stands typical flow and pressure surges. The response is fast enough to save tools. Flow set-points are quickly adjustable through the meter display. If a tool change necessitates a new meter, UFM's new manifold mounted design cuts downtimes and spares. Up to six monitors per manifold can be assembled to minimize space while simplifying piping, hosing, and wiring layouts. Linear 4-20mA transmitted signals and open collector outputs are pin connected.
This truly modular Sensor Manifold allows easy replacement and maintenance of the flow metering unit without disturbing the piping. When tooling changes require flow monitor changes, it is now very simple. A tie-rod system holds the manifold sections together, with O-ring seal between each section. Each manifold section has its own flow monitor, simply remove the bolts, and replace the unit.
The flow monitor offer an integral LCD display with optional remote. Display is shown in liters or gallons per minute. Additionally, two open collector outputs are available for configuration of high and low flow alarms. These are set using membrane switches, and have two integral LEDs that show when the flow reaches the preset levels. The full- complement of electronic options offer a range of local and remote control strategies.
The simplicity of this flow monitor's mechanical design provides ease of maintenance, quick replacement, simple capacity modification, use and stocking of common components, thus reducing inventory of spares and associated costs dramatically

Lake Flow Monitors – a complete line of rugged flow rate monitors, alarms, switches, transmitters and hydraulic analyzers
Lake Monitors Feature:
Warranty: 5 year parts and labor
3 Different Construction Materials: Aluminum, Brass or #303 Stainless Steel
24 Different Port Sizes: NPTF, SAE, and BSP thread forms
26 Flow Ranges Available:
–  Liquid – 0.05 1 to 12 – 150 GPM
–  Air/Gas – 2 12 to 150 -1300 SCFM
Accuracy: ± 4 % of Full Scale
Operation Pressure:
–  Liquid – 6000 PSI max
–  Air/Gas – 1000 PSI max
Unrestricted Mounting Orientations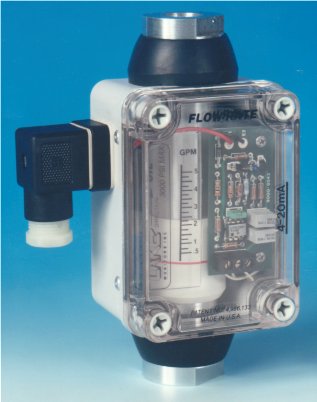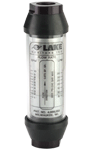 Basic In-Line Flow Meters
High value, direct reading in-line flow monitor. Can be used with petroleum and synthetic based oils as well as water based fluids. Weather tight construction for outdoor use.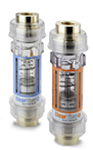 Clear View Flow Meters
Economical flow meters to monitor municipal-pressure water flows, observe case drain flows and verify pump outputs.
Case Drain Monitors
Affordable option to using standard flows meter for case drain applications.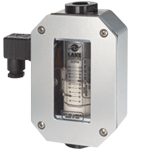 Flow Meter Alarms
For mobile hydraulic equipment and industrial process control to ensure sufficient flows of coolants and lubricants.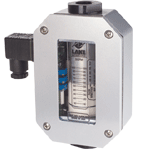 Flow Meter Transmitters
Ideal for batching, industrial process control, mobile hydraulic equipment and computer / PLC-controlled hydraulic systems monitoring application.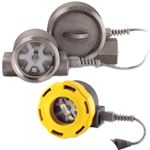 Flow Stat Sensors – Stainless Steel, Flow Stat ES Sensor – Plastic
Low cost in-lin turbine flow rate transmitter. Excellent monitor for chiller / cooling circuits, HVAC, medical equipment, batching and industrial process control applications.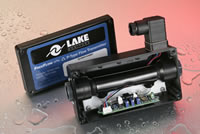 FreeFlow Sensors
Minimally invasive, low cost segmented wedge flow sensor. Used to monitor and control process water.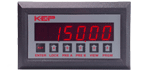 Flow Analyzers / Flow Totalizers
Integrates with Lake's flow rate transmitters and FlowStat® to form a powerful flow control and measurement system.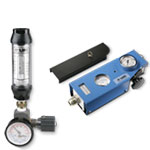 Test Analyzers – Hydraulic Diagnostic Products
Diagnose faults in hydraulic circuits, determine hydraulic horsepower and test for component wear such as hydraulic valve and cylinder leakage.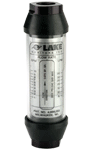 Pneumatic Flow Rate Monitors
Low cost direct reading in line guage. May be used to verify air compressor outputs. Custom calibrations available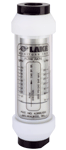 Phosphate Ester Monitors
Direct reading in-line gauge. Factory calibrate for phosphate ester fluids. All materials of construction compatible with phosphate esters.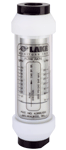 High Temperature Monitors
Enables flow monitoring of barrel heating fluids, thermal transfer fluids such as Syltherm® coolant flows through heat exchangers, as well as flows through hydraulic circuits and sub-circuits with elevated temps.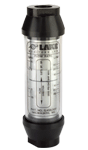 Bi-Directional / Reverse Flow Meters
Lake's patented technology offers true bi-directional flow measurement for liquid, air or gas monitoring applications. Reverse flow meters are also available.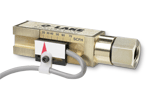 Weld Shield Gas Flow Switch
Used to detect insufficient flow conditions for automated or controlled shielded welding processes.